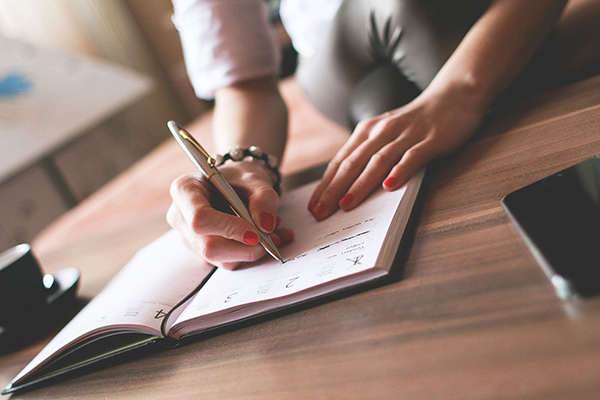 When I was coaching at Uplevel You's Click event last week, I met a wonderful man who's very creative and has amazing energy! He's one of those people who brightens a room just by being himself.
In one of our conversations, he made a comment that I hear All.The.Time. It was along the lines of, "After I've presented something once, I'm bored with it, so I'm always creating something new."
Many of us resisted and resented having structure "imposed" on us when we were younger. It was oppressive, stifling, and we fought against it.
I remember being totally baffled by a college roommate who studied by a schedule every day. In the library. Where it was really, really quiet. To be honest, I thought it was boring and unimaginative. I thought it sounded like hell.
By contrast, I was the one who stayed up all night writing the paper that was due the next day because that's when I felt inspired.
I guess it's no surprise that she's a doctor and I'm an entrepreneur.
Structure's NOT the opposite of creativity
I'm older and wiser now, and I've learned that there's a place for structure and routine, even for creative entrepreneurs. It's a little humbling to admit, but I've learned that structure actually SUPPORTS creativity, and that I need it to be successful.
When you have a structure, you know what your next steps are. You know where you are and where you're going. And you know when you're making progress.
This is true whether the structure is a daily routine or a workshop you've given several times before. When a system gives you WHAT to do, you can focus on HOW you do it.
Creativity comes in the HOW.
Connection comes in the HOW.
Magic happens in the HOW.
---

Tweet: When a system gives you WHAT to do, you can focus on HOW you do it.
---
Repetition creates depth
When you have the format of a workshop that you've done before, you can focus on being fully present with the participants. On being connected. On how you present the material.
When something's brand new, there are details that have to be taken care of on the fly, keeping your mind whirring as you try to keep track of it all.
With an established format, you can relax into the existing rhythm and flow. The materials are already done and ready, leaving you space to stay grounded in your body and more aware of what's going on in the room.
Will you continue to tweak and make improvements to your existing programs? Of course! Doing a program more than once allows you to go deeper with the messages and get even clearer – and more creative – about how you communicate them.
Will you still create a whole new program periodically? Definitely. But it has the chance to grow organically out of what your clients need next, or what you're drawn to create rather than simply out of a "need for new."
The Case for Recommitment
I truly admire musicians, athletes and others who practice the same thing over and over again. I envy my daughter's ability to stick to a plan and systematically work toward a goal.
Some of us aren't naturally wired that way.
I created focus sheets for my Shift into Action group that I LOVE! When I use them daily, I experience the difference they make. And every week I have to remind myself that I love them and that they work.
For some of us, routine and self-discipline are a process of continual recommitment. Over and over again, we have to get back in the game. We have to remember WHY we're doing it and focus on the rewards.
Getting over our past experiences with systems and routines can be tremendously healing and open up new possibilities going forward. It's a way to stop the struggle and is definitely something I help clients with on a regular basis.
Accountability and support also make a huge difference. I've started a new exercise routine and stay consistent with it by reporting weekly to a friend what I've done. Now that I'm starting to see the physical benefits, I'm relying less on those check-ins, but I'm not at all ready to give them up.
Depth. Mastery. Strength. Connection.
If those are something you're looking for, give structure (another) chance.
Now that you know my experience, I'd love to hear about your struggles and achievements with structure in the comments below.